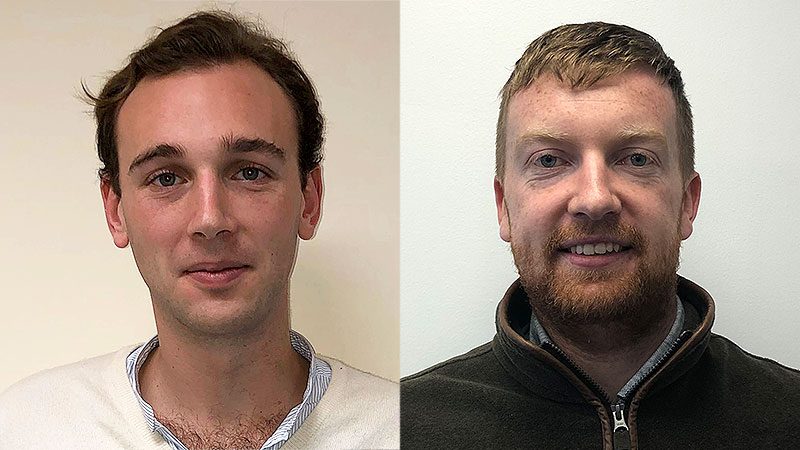 31 Oct

We've appointed 2 new grain buyers
We've appointed 2 new grain buyers
On the publication of the 2022 results, CEO Andrew Mackay reflected on his gratitude to all those who have been part of the journey.
We've recently expanded its reach in Scotland and the West Midlands by appointing two new farm grain buyers.
Andrew Geraghty has become a valuable addition to Cefetra, the UK and Ireland's trailblazing supply chain management company for grains and animal feed raw materials. He has taken up the role focused on Scotland and the Borders. In parallel, Tom Mundy has assumed responsibilities in Shropshire, Herefordshire, and Worcestershire.
These freshly appointed Cefetra farm grain buyers will play a pivotal role in cultivating relationships with existing farmer customers while actively seeking out new clients. Their responsibilities also encompass the negotiation of contracts for farm grain and oilseed acquisitions and the coordination of sales agreements for fertilisers, seeds, and speciality crops.
Operating from Cefetra's Ormiston Grain Storage Facility in Scotland, Andrew Geraghty brings with him a wealth of experience from the dairy sector in his native Ireland. As the third generation of dairy farmers in County Meath, his previous roles included serving as a farm sustainability development advisor and a milk supply manager for Glanbia, which later rebranded as the farmer-owned cooperative Tirlán.
Andrew expressed his enthusiasm for this transition: "Coming from a dairy background, I have a genuine connection with farmers, which has facilitated my integration into the new sector with Cefetra Grain. I am keen to learn and have already gained valuable insights thanks to the supportive team around me. When the opportunity to join Cefetra Grain arose, I was thrilled by the new challenge and grateful for the chance to contribute to the growth of this outstanding company with a stellar reputation."
On the other hand, Tom Mundy operates from the grain trading office in Whitchurch, Shropshire. Before joining Cefetra, he worked for the international food and agri-business Olam Group. This move represents a return to his roots, as he was raised in Shropshire.
Tom remarked, "I worked as a procurement manager, specializing in cocoa, in Nigeria, having gained experience with Olam at their London office. I was eager to join Cefetra Grain due to the company's growth potential and promising future. The opportunity to return to Shropshire, a place I know well, meant a great deal to me, and I am eagerly looking forward to supporting the growth initiative in this region."
Simon Wilcox, the Manager of UK Farm Grain Origination, expressed his delight, saying, "We are thrilled to welcome Andrew and Tom to our team and are excited to collaborate with them as we work towards achieving our objectives in Scotland and the West."