15 Jun

Cefetra's very own agricultural career circle of life
The Agricultural Circle of Life
Meet Willie Wright, Alex Kellett and John Calder, three young-at-heart men who have amassed a total of 130 years in the grain industry. They wholeheartedly agree that agriculture has become a career for life for them!
Today, the three work colleagues are each shining in their own different specialism – all employed by Cefetra.
All three men started their careers with a connection to our new Ormiston store facility in Scotland. It's a touching full-circle moment for all three.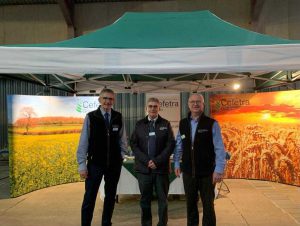 Let's follow their journey…
Willie Wright
Willie begun his career in the agricultural world as a malting barley grain store operative in 1986 at Ormiston. He worked his way up the ladder, to become Commodities Trader  – a role he still occupies today.
"I've spent 34 years in the industry, often having worked alongside family farmers, and enjoyed every minute of it. At Cefetra, there is a great atmosphere created by the fact that the old (me included) and the young (such as my colleagues Kirsty and Sam) work so well together, and it goes to show that experience and new thinking make a winning combination,"
Alex Kellett
Meet Alex, a 66 year old Farm Grain Buyer. 6 months ago, Alex started his second stretch at Cefetra. He worked for Cefetra in Glasgow 15 years ago before leaving to go self-employed, although still working for Cefetra as an agent during this time.
Today, his role focuses on grain procurement for the two new grain stores. He focusses on maintaining contact with the many farmers the company buys from across East Lothian and the Borders.
"Cefetra is so different from the place I used to know when I worked here before. Its growth has been massive, but in so many other ways it is still the same. The people are great to work with and the approach the management takes to run the company is as progressive as ever. There's always something happening, which makes for an exciting environment."
He added: "As you can imagine farming has changed a lot in my time. I was 22 years old when I started in the grain industry, straight out of Edinburgh university having completed a BSc. in Agriculture – and there were no mobile phones! Back then, there were many more farmers than there are now and many more grain merchants. Sadly, I think such a decline will continue."
John Calder
Our third and final Cefetra legend is John Calder, who has amassed 13 years at Cefetra. John was Grains Manager from 2009-2020, responsible for all grains in the UK and Ireland. Throughout this time Cefetra became a significant player in the cereal supply trade, providing 5 million tonnes of raw materials for the animal feed sector, distillers, ethanol, crushers and flour and oat millers.
"Since turning 65, I have continued in a support role with the grains team – focusing on malting barley, maize, feed grains and general management support."
"Cefetra took ownership of the Ormiston and Charlesfield facilities on 1st April 2022, exactly 48 years since my first day in the trade. I started in 1974 with the company that built the Ormiston facility from a greenfield site. When I started there were hundreds of competing entities operating between the farm gate and consumers. Today there are only a handful of national traders and some niche regional players servicing the sector."
"We are in the early stages of an exciting period in the arable sector in which efficient growers will be well rewarded. The risks however will also be much higher so farmers should align themselves with strong marketeers with good market insight."
To find out about opportunities that our new Ormiston store could bring to you please get in touch with our amazing team.