30 Apr

A Year in the Life Series: Spring with Steve
A Year in the Life of…. Spring
We recently launched our 'Year in the Life' campaign providing insight into what goes on behind the scenes on arable farms and highlighting the incredible amount of work that goes into producing the portfolio of annual crops.
In the spotlight this Spring is Steve Clark – a Farm Grain buyer for Cefetra in Yorkshire and the North East.
Bio About myself: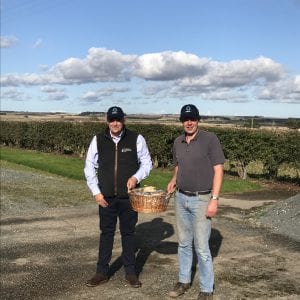 My name's Steve and I live in Fridaythorpe on the Yorkshire Wolds with my wife Anne. Both my wife and I are Farm Grain Buyer's for Cefetra. I'm a proud Dad of 4 and have been a farmer since the age of 4. I have been brought up in a farming family in North Yorkshire and have been involved in farming all my life. I am often found on a weekend driving tractors and taking a few too many pictures of farm machinery you could say, hence earning the title of #weekendfarmer!
No two days are ever the same in my role. It can vary from talking to customers about the grain markets and pricing, along with selling seed and fertiliser. I'm even involved in setting up field trials for Cefetra's new revolutionary product – POLY4. I have even gone out to a customer's farm to load lorries because he had broken his leg and could not drive the loader. A core element in Cefetra's company culture is about building relationships with customers and providing a superb service and going that extra mile for them in every means possible.
As spring growing season arrives, this is a key time to get the crops prepped and ready for the harvest season. For instance, a necessary task that I have to carry out is measuring a POLY4 trial plot. This is a multi-nutrient and low-chloride fertiliser suitable for organic farming. We have been trialling different plots across the country for cereals, potatoes, pulses and grassland.
This game-changing product promotes sustainable agricultural practices, enabling farmers to sustainably increase yields and benefit economically. How this works exactly is that we apply a certain rate of POLY4 to the plots and compare the difference in yield when harvested between untreated and treated crop – the measurement of the plots which I got from using the app is exactly 2.1 hectares.
Springtime is an extremely busy time for farmers, as crops require a lot of time and investment, with the unpredictable UK weather adding to the challenge! It's a busy time for a Farm Trader, pre-pandemic we would be out meeting new customers and interacting face-to-face with a lot of farmers, which we have not been able to do in the same way recently. Instead, we have turned to digital; conducting virtual meetings and telephone calls, allowing us to keep in contact with present customers and new customers alike, staying connected in every way possible. With Farmers still having grain to sell and inputs to buy in the springtime it is vital that Cefetra supports them in every way possible and keeps momentum going, helping to grow their business that step further.
If you want to find out more information about POLY4 then get in touch with Cefetra today.